– top –
It's the Mass that Matters!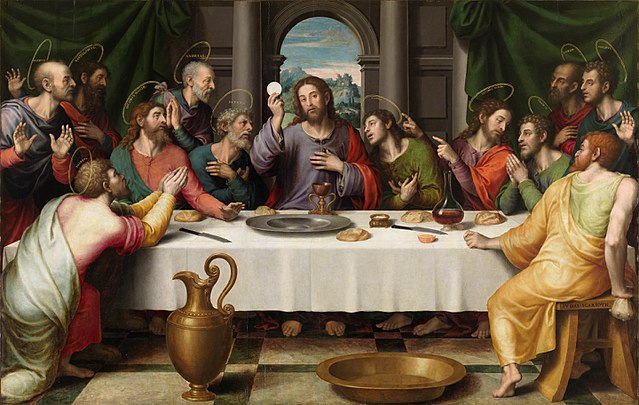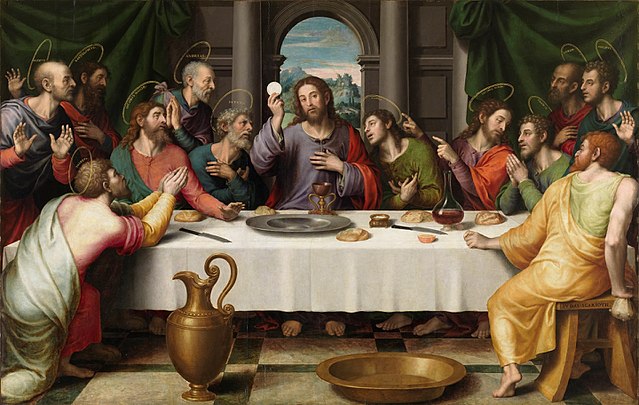 Mass times
Please come back to check for updates
| | |
| --- | --- |
| Holy Trinity: |   |
| Sunday | 9am, 10:30am, 5:30pm |
| Mon-Sat | 7am |
|   |   |
| San Isidore: |   |
| Saturday (vigil) | 6pm  |
Sunday 9am and 5.30pm Masses at Holy Trinity may be popular, so consider if you're able to go at the other times.
---
Parish Hymn Book
Click here to open an attachment with links to let you listen to the words and tunes of many of the hymns in our parish hymn book.
---
Confession and pastoral care
The Sacrament of Confession is available at Sat 11am to noon, prior to weekend Masses or by request. For Confession, pastoral care and other prayer options don't hesitate to contact us.
---
Are you unable to get to Mass?
Here are some options for watching Mass online and for reflecting on the readings of the day.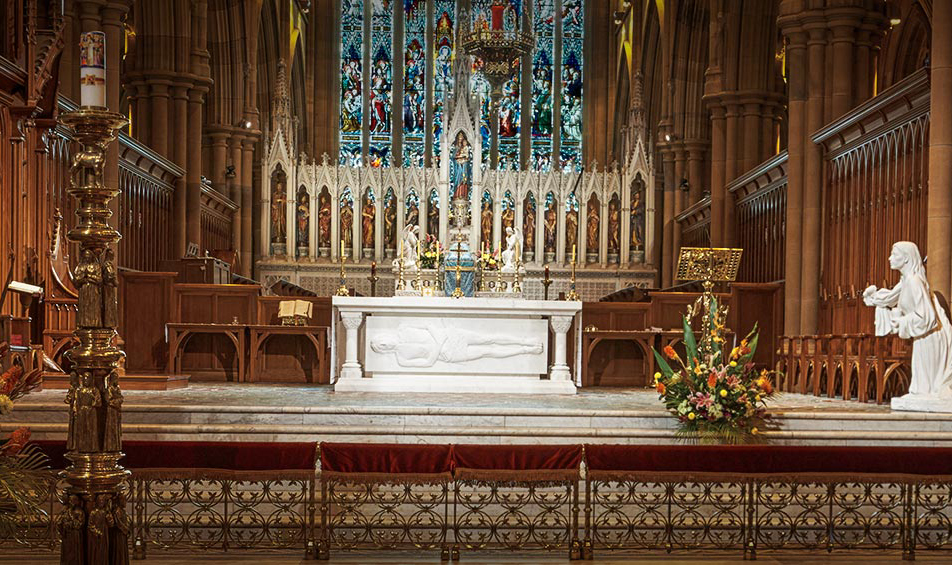 Sunday and weekday Masses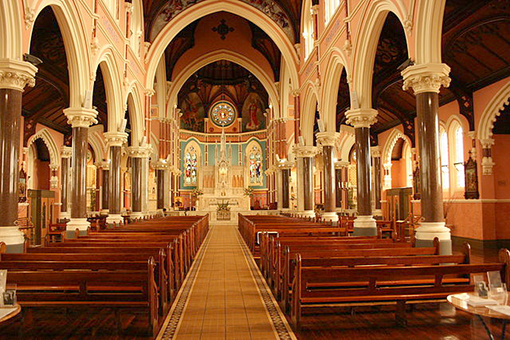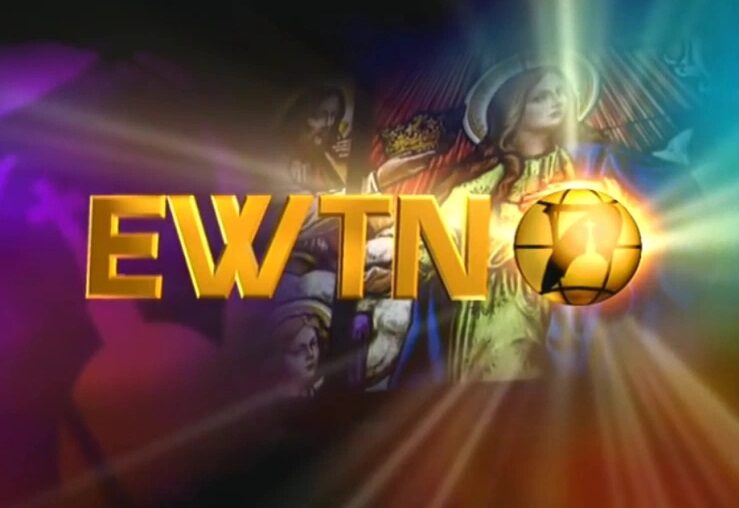 Spiritual Communion
How to make a Spiritual Communion when you can't get to Mass.
O HOLY ANGEL at my side, Go to Church for me,
Kneel in my place, at Holy Mass, Where I desire to be.
At Offertory, in my stead, Take all I am and own,
And place it as a sacrifice Upon the Altar Throne.
At Holy Consecration's bell, Adore with Seraph's love,
My Jesus hidden in the Host, Come down from Heaven above.
Then pray for those I dearly love, And those who cause me grief,
That Jesus' Blood may cleanse all hearts, And suff'ring souls relieve.
And when the priest Communion takes, Oh, bring my Lord to me,
That His sweet Heart may rest on mine, And I His temple be.
Pray that this Sacrifice Divine, May mankind's sins efface;
Then bring me Jesus' blessing home, The pledge of every grace. Amen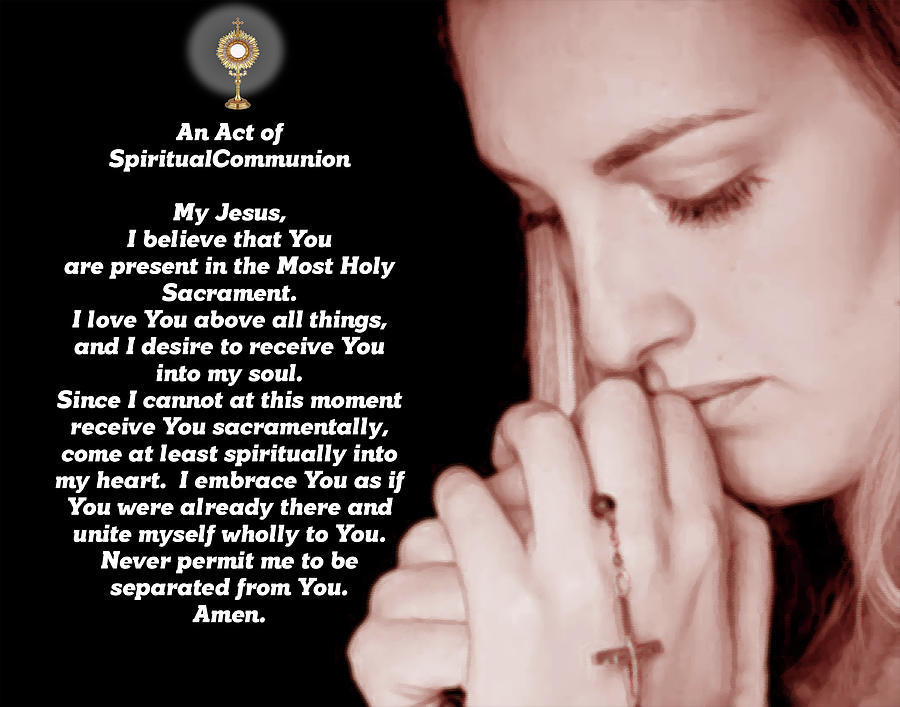 Fatima Prayers
Here are some other prayers when you wish you were at Mass and for other times of the day.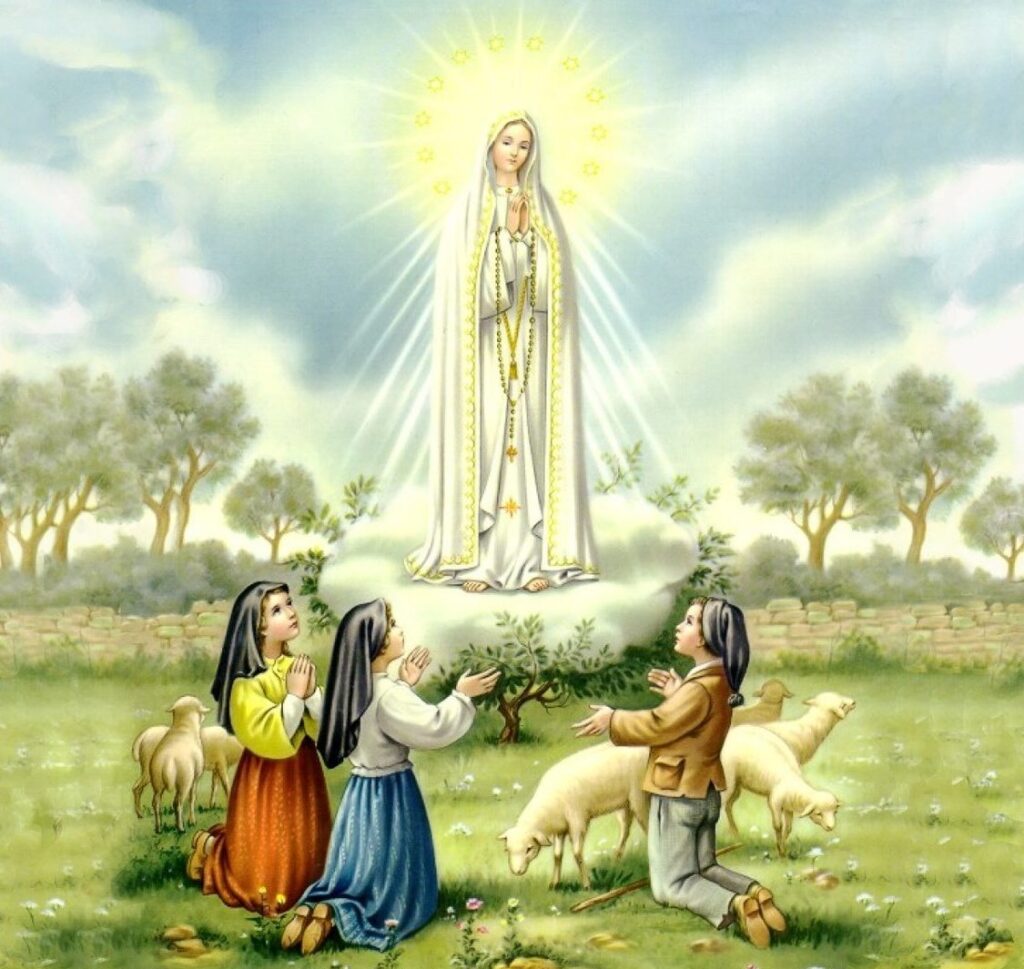 PARDON PRAYER
My God, I believe, I adore, I hope and I love Thee!
I beg pardon for those who do not believe, do not adore, do not hope and do not love Thee.
ANGEL'S PRAYER
O Most Holy Trinity, Father, Son and Holy Spirit, I adore Thee profoundly.
I offer Thee the most precious Body, Blood, Soul and Divinity of Jesus Christ, present in all the tabernacles of the world, in reparation for the outrages, sacrileges and indifference by which He is offended.
By the infinite merits of the Sacred Heart of Jesus and the Immaculate Heart of Mary, I beg the conversion of poor sinners.
EUCHARISTIC PRAYER
Most Holy Trinity, I adore Thee! My God, my God, I love Thee in the Most Blessed Sacrament!
SACRIFICE PRAYER
O Jesus, it is for love of You, for the conversion of sinners, and in reparation for the sins committed against the Immaculate Heart of Mary.
Morning Offering
For followers of Jesus of any age.
O Jesus,
through the Immaculate Heart of Mary,
I offer You my prayers, works,
joys and sufferings
of this day for all the intentions
of Your Sacred Heart,
in union with the Holy Sacrifice of the Mass
throughout the world,
in reparation for my sins,
for the intentions of all my relatives and friends,
and in particular
for the Holy Father. Amen.
This prayer has numerous variations, but the main idea is to start your day giving to God everything you may encounter during the upcoming day.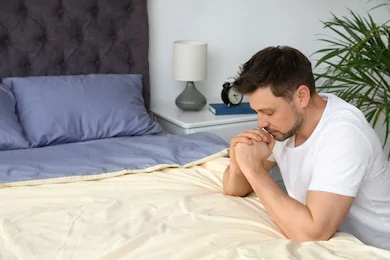 ---
Pray the Rosary
any time, anywhere.
The mydailyrosary project was born in Melbourne when two friends, strolling coffee in hand, made a simple observation – praying the rosary is difficult!
We agreed that the rosary is so much easier when you pray 'with' someone, but it's not always possible. A recording, however, means that you have a prayer buddy with you at any time.
These records have helped us pray our daily rosary – in the car, on a train, jogging, walking, cooking, cleaning, swimming – really anywhere.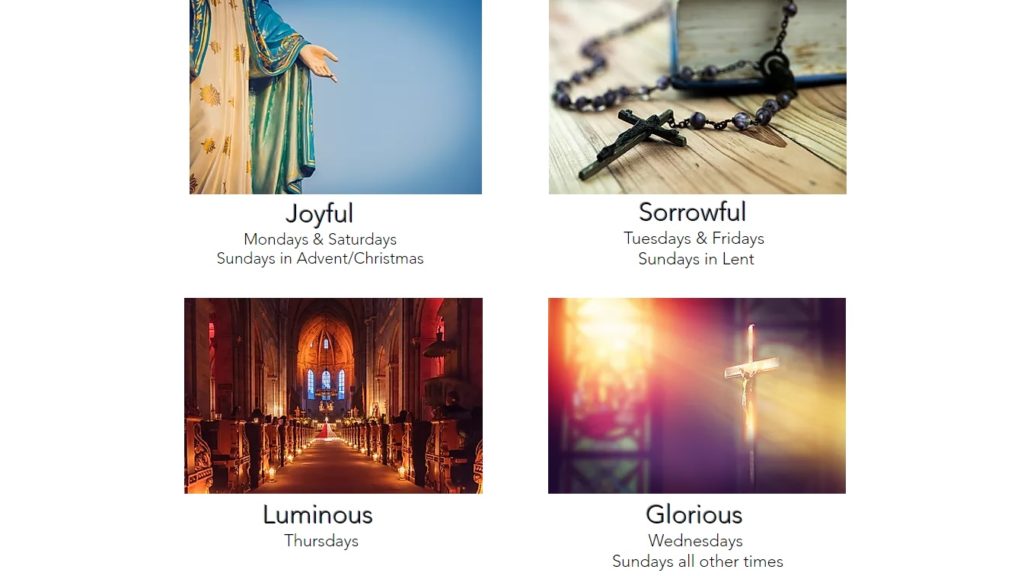 ---
Prayers for the Dying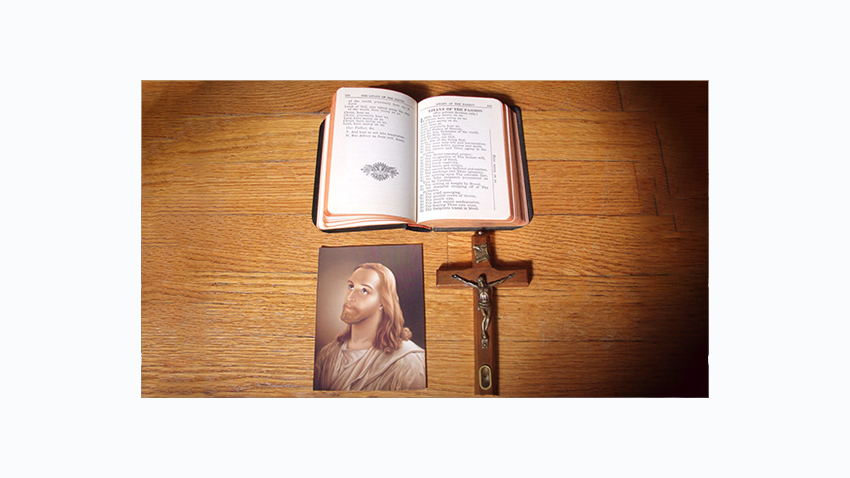 (If possible to pray aloud, say clearly and slowly)
We read in Sacred Scripture:
Romans 8:35 "Who can separate us from the love of Christ?"
Romans 14:8 "Whether we live or die, we are the Lord's."
2 Corinthians 5:1 "We have an everlasting home in heaven."
1 Thessalonians 4:17 "We shall be with the Lord for ever."
1 John 3:2 "We shall see God as he really is."
1 John 3:14 "We have passed from death to life because we love one another."
Psalm 25:1 "To you, Lord, I lift up my soul."
Psalm 27:1 "The Lord is my light and my salvation."
Psalm 27:13 "I believe that I shall see the goodness of the Lord in the land of the living."
Psalm 42:3 "My soul thirsts for the living God."
Psalm 23:4 "Though I walk in the valley of the shadow of death, I will fear no evil, for you are with me."
Matthew 25:34 "Come, blessed of my Father, says the Lord Jesus, and take possession of the kingdom prepared for you."
Luke 23:43 "The Lord Jesus says, today you will be with me in paradise."
John 14:2 "In my Father's home, there are many dwelling places, says the Lord Jesus."
John 14:2-3 "The Lord Jesus says, I go to prepare a place for you, and I will come again to take you to myself."
John 17:24 "I desire that where I am, they also may be with me, says the Lord Jesus.
John 6:40 "Everyone who believes in the Son has eternal life.
Psalm 31:5a "Into your hands, Lord, I commend my spirit."
Holy Mary, pray for me.
Saint Joseph, pray for me.
Jesus, Mary and Joseph: assist me in my last agony.
READING
Psalm 23
The Lord is my shepherd; I shall not want.
In verdant pastures he gives me repose;
Beside restful waters he leads me; he refreshes my soul.
He guides me in right paths for his name's sake.
Even when I walk in the dark valley, I fear no evil: for you are at my side
With your rod and staff that give me courage
You spread the table before me in the sight of my foes;
You anoint my head with oil; my cup overflows.
Only goodness and kindness follow me all the days of my life;
And I shall dwell in the house of the Lord for years to come.
Revelation 21:1-5a, 6-7
God our Father is the God of newness and life; it is his desire that we should come to share his life with him.
I, John saw a new heaven and a new earth. The former heaven and the former earth had passed away, and the sea was no more. I also saw the holy city, a new Jerusalem, coming down out of heaven from God, prepared as a bride adorned for her husband. I heard a loud voice from the throne saying, "Behold, God's dwelling is with the human race. He will dwell with them and they will be his people and God himself will always be with them as their God. He will wipe every tear from their eyes, and there shall be no more death or mourning, wailing or pain, for the old order has passed away."
The one who sat on the throne said, "Behold, I make all things new. I am the Alpha and the Omega, the beginning and the end. To the thirsty I will give a gift from the spring of life-giving water. The victor will inherit these gifts, and I shall be his God, and he will be my son."
John 14: 1-6, 23, 27
The love of Jesus can raise us up from the sorrow of death to the joy of eternal life.
Jesus says:
"Do not let your hearts be troubled. Have faith in God and faith in me.
In my Father's house there are many dwelling places; otherwise, how could I have told you
that I am going to prepare a place for you?
I am indeed going to prepare a place for you,
and then I shall come back to take you with me,
that where I am you also may be.
"Lord," said Thomas, "we do not know where you are going. How can we know the way? Jesus told him:
"I am the way and the truth and the life.
No one comes to the Father except through me.
Anyone who loves me
will be true to my word,
and my Father will love him;
we will come to him
and make our dwelling place with him.
'Peace' is my farewell to you,
my peace is a gift to you;
I do not give it to you as the world gives peace.
Do not be distressed or fearful."
LITANY OF THE SAINTS
Lord, have mercy.
Lord, have mercy.
Christ, have mercy.
Christ, have mercy.
Lord, have mercy.
Lord, have mercy.
Holy Mary, Mother of God pray for him/her
Holy angels of God R/
Abraham, our father in faith R/
David, leader of God's people R/
All holy patriarchs and prophets R/
Saint John the Baptist R/
Saint Joseph R/
Saint Peter and Saint Paul R/
Saint Andrew R/
Saint John R/
Saint Mary Magdalene R/
Saint Stephen R/
Saint Ignatius R/
Saint Lawrence R/
Saint Perpetua and Saint Felicity R/
Saint Agnes R/
Saint Helen R/
Saint Gregory R/
Saint Augustine R/
Saint Athanasius R/
Saint Basil R/
Saint Martin R/
Saint Benedict R/
Saint Francis and Saint Dominic R/
Saint Francis Xavier R/
Saint John Vianney R/
Saint Catherine R/
Saint Teresa R/
All holy men and women, R/
Lord, be merciful R/ Lord, save your people.
From all evil R/
From every sin R/
From Satan's power R/
At the moment of death R/
From everlasting death R/
On the day of judgment R/
By your coming as man R/
By your suffering and cross R/
By your death and rising to new life R/
By your return in glory to the Father R/
By your gift of the Holy Spirit R/
By your coming again in glory R/
Be merciful to us sinners R/ Lord, hear our prayer.
Bring N. to eternal life, first promised to him/her in baptism R/
Raise N. on the last day, for he/she has eaten the Bread of Life R/
Let N. share in your glory, for he/she has shared in your suffering and death R/
Jesus, Son of the Living God R/
Christ, hear us. Christ, hear us.
Lord Jesus, hear our prayer. Lord Jesus, hear our prayer.

PRAYER OF COMMENDATION
I commend you, my dear brother/sister,
to almighty God,
and entrust you to your Creator.
May you return to him
who formed you from the dust of the earth.
May holy Mary, the angels, and all the saints
come to meet you as you go forth from this life.
May Christ who was crucified for you
bring you freedom and peace.
May Christ who died for you
admit you into his garden of paradise.
May Christ, the true Shepherd,
acknowledge you as one of his flock.
May you see the Redeemer face to face,
and enjoy the vision of God for ever.
R. Amen.
Hail, holy Queen, Mother of Mercy,
hail, our life, our sweetness, and our hope.
To thee do we cry, the children of Eve;
to you we send up our sighs, mourning and weeping
in this land of exile.
Turn, then, most gracious advocate,
your eyes of mercy toward us;
lead us home at last
and show us the blessed fruit of your womb, Jesus:
O clement, O loving, O sweet Virgin Mary.
PRAYER AFTER DEATH
Saints of God, come to his/her aid!
Come to meet him/her, angels of the Lord!
R. Receive his/her soul and present him/her to God the Most High.
May Christ, who called you, take you to himself;
may angels lead you to Abraham's side.
R. Receive his/her soul and present him/her to God the Most High.
Give him/her eternal rest, O Lord,
and may your light shine upon him/her forever.
R. Receive his/her soul and present him/her to God the Most High.
Loving and merciful God,
we entrust our brother/sister to your mercy.
You loved him/her greatly in this life:
now that he/she is freed from all its cares,
give him/her happiness and peace for ever.
The old order has passed away:
welcome him/her now into paradise
where there will be no more sorrow,
no more weeping or pain,
but only peace and joy with Jesus your Son,
and the Holy Spirit for ever and ever.
R. Amen.

PRAYER FOR THE FAMILY AND FRIENDS
Lord Jesus, our Redeemer,
you willingly gave yourself up to death
so that all people might be saved
and pass from death into a new life.
Listen to our prayers;
look with love on your people
who mourn and pray for their brother/sister N.
Lord Jesus, holy and compassionate:
forgive N. his/her sins.
By dying you opened the gates of life
for those who believe in you;
do not let your brother/sister be parted from you,
but by your glorious power
give him/her light, joy, and peace in heaven
where you live for ever and ever.
R. Amen.

THE LORDS PRAYER
With God there is mercy and fullness of redemption; let us pray as Jesus taught us to pray:
Our Father,
who art in heaven,
hallowed be thy name;
thy kingdom come;
thy will be done on earth as it is in heaven.
Give us this day our daily bread;
and forgive us our trespasses
as we forgive those who trespass against us;
and lead us not into temptation,
but deliver us from evil.
Amen
DIVINE MERCY PRAYERS
Opening Prayers (optional)
You expired, Jesus, but the source of life gushed forth for souls, and an ocean of mercy opened up for the whole world. O Fount of Life, unfathomable Divine Mercy, envelop the whole world and empty Yourself out upon us. (Diary 1319)
O Blood and Water, which gushed forth from the Heart of Jesus as a fount of mercy for us, I trust in You! (Diary 84)
Begin the Chaplet with the Our Father, the Hail Mary and the Apostle's Creed.
The Our Father
Our Father, who art in heaven,
hallowed be thy name.
Thy kingdom come.
Thy will be done on earth
as it is in heaven.
Give us this day our daily bread
and forgive us our trespasses,
as we forgive those
who trespass against us,
and lead us not into temptation,
but deliver us from evil. Amen.
The Hail Mary
Hail Mary, full of grace,
the Lord is with thee.
Blessed art thou among women
and blessed is the fruit
of thy womb, Jesus.
Holy Mary, Mother of God,
pray for us sinners,
now and at the hour of our death. Amen.
The Apostle's Creed
I believe in God, the Father almighty
creator of heaven and earth.
I believe in Jesus Christ, his only Son, our Lord.
He was conceived by the power of the Holy Spirit
and born of the Virgin Mary.
He suffered under Pontius Pilate,
was crucified, died, and was buried.
He descended into hell.
On the third day he rose again.
He ascended into heaven
and is seated at the right hand of the Father.
He will come again to judge the living and the dead.
I believe in the Holy Spirit,
the holy catholic Church,
the communion of saints,
the forgiveness of sins,
the resurrection of the body,
and life everlasting. Amen.
Then on the large bead before each decade:
Eternal Father,
I offer You the Body and Blood,
Soul and Divinity of Your dearly beloved Son,
Our Lord Jesus Christ,
in atonement for our sins,
and those of the whole world
On the ten small beads of each decade, say:
For the sake of His
sorrowful Passion,
have mercy on us
and on the whole world.
Conclude with (repeat 3 times):
Holy God,
Holy Mighty One,
Holy Immortal One,
have mercy on us
and on the whole world.
Closing Prayer (optional)
Eternal God, in whom mercy is endless
and the treasury of compassion – inexhaustible,
look kindly upon us and increase Your mercy in us,
that in difficult moments we might not despair
nor become despondent,
but with great confidence submit ourselves to Your
holy will, which is Love and Mercy itself. (Diary 950)