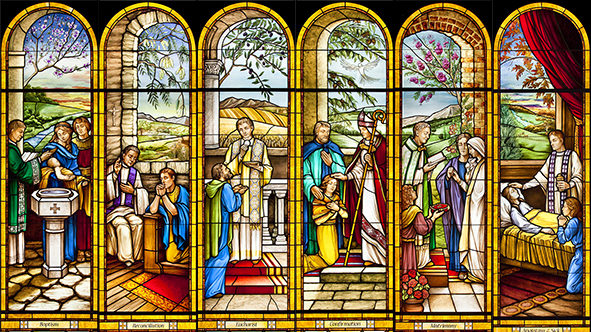 Sacraments
When Jesus walked in Judaea 2000 years ago, He raised the dead, gave sight to the blind, drove out demons, by the touch of His hands and the sound of His voice. Now Jesus does these things through the Sacraments He instituted.
Faith and Baptism: Faith is the beginning, the root and the foundation of our being made right with God, of following Jesus' call to enter the Catholic Church and receive His Sacraments. And the first of the Sacraments is Baptism.
Phone the parish, catch up with one of our priests at the presbytery or after Mass or send a message if you have any questions at all about Jesus' call to enter the Catholic Church and receive the Sacraments.
Ph 02 6931 3601
On this page
Sacraments to Home-Bound

Please notify the priests when a member of your family or a parishioner is in a hospital or in need of the Sacraments, especially the Anointing of the Sick in a hospital or at the home. Holy Communion is distributed in the homes usually on Thursday morning. Please telephone the parish to arrange for this great blessing.
---
Sacrament of Penance

Confession Times
Saturdays – 11.00 am to noon
prior to weekend Masses
or by request.
Have you been away from this Sacrament for a long time and would like help starting back again?
Learn more about this liberating and empowering Sacrament, and what motivates those who choose to come to Confession frequently.
Here are some videos which will help you understand Confession more:
---
Baptisms

Baptisms of adults and older children – by appointment at a suitable time.
Baptisms of babies and young children – by appointment a few weeks prior.
Congratulations on your decision to be baptised, or on the birth of your baby, or, if your child who is to be baptised is older, on your decision to bring him or her to share Eternal life and become a child of God.
Being baptised is the way to enter into the Family of God which is the Church. One of the most important ways to live as part of this Faith Family is to come together for Sunday Mass either in our parish or in another. Our Masses are:
6pm Saturday at San Isidore,‬
9am, 10:30am and 5.30pm Sunday at Holy Trinity in Ashmont.

There are three parts to living the Faith life we receive at Baptism, and like three legs of a stool, all of them are essential.
Growing in knowledge of our Faith (Bible and Catechism)
Knowing and living the ten Commandments, knowing right from wrong as God teaches us, and learning to care for our neighbour. This includes the Golden Rule: do to others what you would like them to do to you.
Worshipping God at Mass and in our family and private prayers.
In asking for your child to be baptised, you are bringing him or her into this new way of life, one which you should mirror for your child and which God parents must also show in their own life.
About Godparents, you need to have at least one who is a practicing Catholic who is at least 16 and has been confirmed. Practicing means going to Mass every weekend and also not living de facto. If you have a sincere baptised Christian who is not Catholic, they can be a "Christian Witness" along side the Catholic Godparent/s. Why can't an unbaptised person be a Godparent? Because to be a "parent" of baptismal life they also need to share that life. First comes being born through baptism, then becoming a Christian Adult through Confirmation before becoming a parent in Baptism.
If you have two Godparents, one must be a man and the other a lady. No more than two are allowed by Canon Law.
Baptism of Baby / Child
We need to know:
Proposed baptism date and Church:
Baby's name:
Date of Birth:
Town of Birth:
Father:
Mother's maiden name:
Address:
Phone:
Find a white baptismal gown for the child, and also a Baptism candle. Any decent candle suitably decorated e.g. with ribbon pinned on, or sequins glued etc. would be good.
Here are three videos which will help you and your family to appreciate Baptism more:
---
Children's Parish Based Sacramental Program
1st Confession Program

The Parish based Sacramental Program for first Penance will be in the third term of this school year at Holy Trinity Primary School. Eligible children are those in year 2 at Holy Trinity Primary School or those children from the age of 6 and upwards who attend a public or another school or who are home schooled. A Parent's information meeting will be on Monday evening August 13 at 7 pm in the parish's Trinity Centre. The Parish based Sacramental Program aims at helping parents educate their child in the Sacrament of Penance. Workbooks are provided from the parish and these help parents instruct their children in conjunction with an evening meeting. The parents are assisted in leading their children through the program in preparation for the Sacrament of Penance. The children's reception of the Sacrament of Penance (Reconciliation) is on Wednesday evening September 26 at 6 pm at Holy Trinity Church. The reception of the Sacrament of First Penance depends on the child completing the Parish Sacramental Program for Penance. Please watch this space during the school year for additional information or call 6931 3704 or 6931 3601.
---
1st Holy Communion Program

The program for First Eucharist is a Parish based Sacramental Program. It will be held in the third term of 2018 at Holy Trinity. Children in school year 4, at home or public schooling, are eligible for First Eucharist. This is provided they have already made their 1st Penance (Reconciliation). There is a parent-child program held over four weeks at home. This program is provided by the parish and gives the parent the opportunity to have input into their child's sacramental preparation. The 1st Holy Communion Program begins with a parent information night. This input session and Q&A will be on the evening of Tuesday, June 26 at 7 pm in Trinity Centre. In the final week of the program, there is a child/parent gathering where the Mass is explained in slow motion. Attending this evening is necessary if the child is to receive 1st Holy Communion. The West Wagga Parish First Holy Communion Mass will be held at Our Lady of the Blessed Eucharist Church, San Isidore on Saturday Vigil Mass at 6 pm. For additional information please call the parish on 6931 3601 or the school on 6931 3704.
---
Confirmation Program
The Parish based Confirmation Program is for children in primary Year Six or older students or who are home schooled or from another school. The Confirmation Program is a parish-based preparation course conducted in union with Holy Trinity Primary School. The ceremony is held at St Michael's Cathedral and will be on Sunday, June 24 at 11.30 am. To receive the Sacrament of Confirmation the child has to have previously received the Sacraments of Reconciliation and Holy Communion. The Parish based Confirmation Program begins with an introductory night for parents on Sunday evening May 13th at the end of the 5.30pm Mass at Holy Trinity Church. The follow-up parent/student nights for the coursework are held each Sunday night over four Sunday evenings after the 5.30 pm Mass. Enquiries can be made at the Parish on 6931 3601 or Holy Trinity Primary School 6931 3704.
---
Marriages

By appointment –
a minimum of 9 months prior to Marriage.
Here are a few videos which help us understand Marriage.
---